CALAMBA CITY, Laguna– (Aug. 17)- SMC Infrastructure says it is ready to implement government's renewed push for cashless and contactless payment system along expressways.
In a message received today, stated that this renewed push for cashless and contactless payment system along expressways is in line with its commitment to provide seamless travel and enhance experience for millions of motorists utilizing road networks it operates.
Accordingly, the Department of Transportation (DOTr), through its Toll Regulatory Board (TRB) will conduct a dry run starting Friday, Sept. 1 to test the readiness of concessionaires for a smooth and efficient reimplementation of the program.
"We support the DOTr's and the TRB's move to make toll collection purely cashless. We believe this move will significantly reduce traffic congestion and waiting times at toll plazas and contribute to a smoother and safer travel experience," said SMC President and CEO Ramon S Ang.
The infrastructure unit of San Miguel Corporation, which operates several toll expressways in Luzon, said it has begun transitioning mixed lanes—or cash-accepting lanes—at select toll plazas and exits, to allow for only cashless transactions.
"Our teams are already installing and calibrating RFID scanners and related equipment. We will do everything necessary to ensure that the implementation will go smoothly. If in the course of the dry run period any adjustments have to be made, we will also be ready," Ang continued.
Under the TRB-directed dry run, only vehicles with an active Autosweep RFID account will be allowed along SMC's toll expressways, namely the South Luzon Expressway (SLEX) Southern Tagalog Arterial Road (STAR), Skyway at-grade and Skyways 1,2,3; the NAIA Expressway, and the Tarlac-Pangasinan-La Union Expressway (TPLEX).
Meanwhile, motorists without an active RFID sticker will still be allowed to pass, but toll personnel will install an RFID sticker on their vehicle so they can exit at the electronic toll collection (ETC) lane towards their destination.
Toll personnel will only take a photo of the vehicle license plate and secure the motorist's mobile phone number. Motorists will then need to complete the registration process by supplying other essential information at the Autosweep RFID website.
Ang assured motorists that the Autosweep RFID remains a safe, secure, and efficient electronic toll collection system, and its customer service hotline is open daily to help address motorists' concerns.
"Our motorists can always reach out to our customer service team to deal with any concern they have regarding their Autosweep accounts. We appeal to our motorists to report any problems they encounter to our help desk, immediately," Ang said.
Loading an Autosweep RFID account has also been made easier, more convenient, and widely available. It is a registered vendor at major banks such as Bank of Commerce, and their respective online and electronic banking facilities. E-wallets can also be used to reload the Autosweep RFID account, as well as the payment facilities of major convenience stores nationwide.
Replacement of malfunctioning RFID stickers will remain free of charge as part of Autosweep's commitment to support the full cashless transaction program of the TRB, Ang added.
On the other hand, motorists who will refuse the installation of RFID stickers on their vehicles will have their license plates recorded and tagged, and may be issued violation tickets for obstructing traffic.
DOTR's Department Order 2020-012 issued in August 2020 mandated toll road concession holders to implement a cashless or contactless toll collection system to prevent the spread of COVID-19 virus, and speed up traffic flow at the facilities, using as legal basis Republic Act No. 11469 or the Bayanihan to Heal as One Act and RA No. 8792 or the Electronic Commerce Act, respectively.
A subsequent addendum to the order issued in January 2021 instituted a transition period to the full cashless transaction program, with cash-accepting lanes maintained at toll plazas and exits. (FSJ/Zen Trinidad)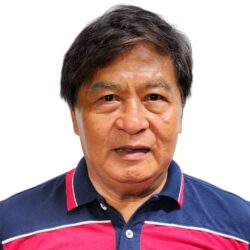 Latest posts by Licinio Trinidad
(see all)