Bacoor City – The Cavite Provincial Highway Patrol Team (PHPT) arrested suspect for motorcycle theft in all saints day, Nov.1 at Bacoor City Cavite.
Led by Maj Gegeon Merza together with Capt Aldine Moreno, PCMS Ferdinand Cruz, PSMS Erlan Demate, PSMS Daniel Carreon, PMSg Jaypee Garcia and Pat Ronnie Oliver and under the supervision of RHPU4A Regional Chief Col Rommel Estolano, conducted an entrapment operation which resulted to the arrest of John Carlo Ponce, 27 years old and resident of Block 2 Lot 29 RCD Villas De Bacoor and presently residing at 2924 Gumamela St., Punta Sta. Ana, Barangay 897, Manila.
Ponce was arrested in front of Meralco Building, Aguinaldo Highway, Brgy. Panapaan 7, Bacoor City and authorities recovered a Suzuki Raider color blue motorcycle with improvised Plate Number CD79904, registered to Rheahnn Tadeo Reyes and reported stolen.
Prior to said operation, on November 1, 2023 at about 10:00AM, Patrick Novenario, the owner thru Deed of Sale and resident of 170 Tablang, Paniqui Tarlac, reported that Jeffrey Tallada, a resident of Apalit Pampanga who pretended as buyer of subject motorcycle failed to return it after a test-drive.
Investigation disclosed that, on October 30, 2023 at about 1:00PM, Novenario posted subject motorcycle for sale in FB Market Place.
Tallada showed interest in buying said motorcycle and both parties agreed to meet-up in front of a convenience store in Dau, Mabalacat, Pampanga.
Tallada test-drive subject motorcycle and fled towards Manila bringing with him the original certificate of registration, a copy of certificate of full payment, open Deed of Sale and photocopy of ID of registered owner. After the incident the victim went to Mabalacat City Police Station to report the incident.
On November 1, 2023 at about 6:00AM live-in partner of the owner/victim, Mitz Anne Bitanga Nieves saw subject motorcycle posted for sale in FaceBook Market Place prompting them to report the incident to Cavite Highway Patrol Unit for possible recovery and arrest of the suspect.
On November 1, 2023, personnel from Cavite PHPT accompanied by a poseur-buyer proceeded to Meralco building along Aguinaldo Highway, Bacoor City, Cavite which resulted to the arrest of Ponce.
Novenario positively identified his stolen motorcycle and the arrested suspect was also pinpointed as the same person who carnapped it at Mabalacat Pampanga.
Arrested suspect was apprised of his constitutional rights and brought to PHPT Cavite for investigation and filing of appropriate charge/s, while subject motorcycle was brought to PHPT Cavite office for macro etching examination and documentation.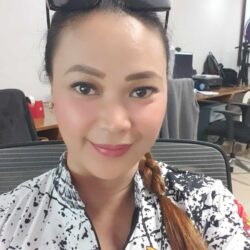 Latest posts by Roselle Aquino
(see all)